Mylands 5L Matt Black Stage Paint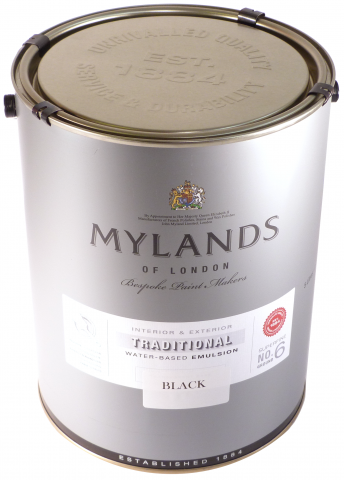 Mylands 5L Matt Black Stage Paint
Free Saver Delivery on this item!
Mylands Matt Black emulsion floor / stage paint. A water-based one-coat, pigmented paint for non-porous floors. It is flame retardant, quick-drying and hardwearing.
Mylands have been producing high quality decorative coatings for film, television and theatre since the 1930's. Mylands' products have been used by the BBC for nearly 50 years and our paints, polishes, lacquers and varnishes have been used on most major productions at Shepperton, Pinewood, Elstree and many other of the UK's better known film studios.
Apply paint in as thin a film as possible while still giving sufficient opacity. The paint is supplied ready for use and should not be thinned, except for decorative effect. Wash rollers and brushes with water before paint has dried. If blowers are used to speed drying, direct airflow parallel with floor, not down onto it.
Coverage is 10 to 15 metres square per litre. Drying time is 1 to 3 hours depending on the thickness of the film applied and the temperature and humidity of the studio. Air conditioning will help speed up the drying time.