Antari S-500 Professional Snow Machine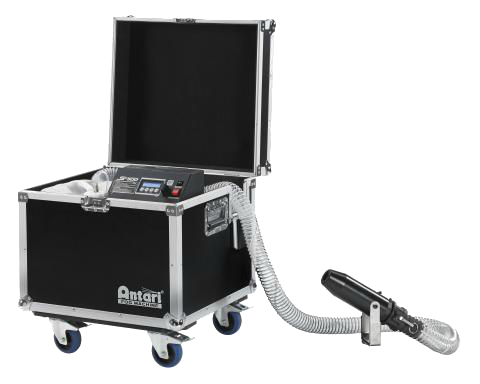 Antari S-500 Professional Snow Machine
Free Saver Delivery on this item!
Description
Features
Specifications
The Antari S-500 is a sophisticated professional silent snow machine for medium and large events. Unlike the traditional snow machines where you need to rig the complete snow machine, the S-500 can stay on the ground. It has a 10m long flexible hose with a nozzle that can be mounted in the truss. This makes it very convenient in your setup. Because the machine can stay on the ground the machine weight is not a problem and a 20 litre tank is added to meet enough capacity for a complete gig.
An additional pan motor is available to fan your snow in a 120 degree angle. Which means you can cover a 4 times larger space with only one machine. The S-500 is a flightcase based machine with a compartment to store all accessories. This makes the S-500 easy to transport and stage ready. Users can adjust the wind volume and flow rate to get the right snow effects needed, from fine snow to Blizzard.
Flightcase included
Optional Pan Motor
DMX Control
Big Volume Output
Power: AC230V, 50Hz / 60Hz
Power Consumption: 1,200W
Output: 400 ml / min
Tank Capacity: 20 litre
Weight: 37.2 Kg
Optional: PM-1, Wireless DMX
DMX On Board
Dimension(mm): 592 x 551 x 651
Recommended Liquid: Antari SL-5, SL-5N Snow / Foam Liquid, Antari SL-5A, SL-5AN Snow Liquid Premium