Rosco Digicomp HD Digital Blue Chroma Key Paint 3.79L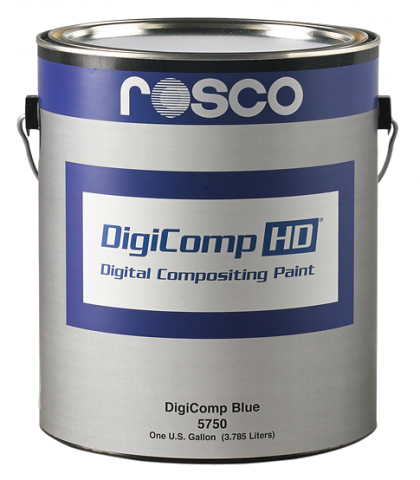 Rosco Digicomp HD Digital Blue Chroma Key Paint 3.79L
Free Saver Delivery on this item!
Description
Features
Specifications
Rosco DigiComp® HD colour standards are precisely manufactured for crisp, clean separation of the foreground/background in digital compositing – resulting in little or no post-production "touch-up" needed. Rosco DigiComp® HD paints are specially formulated to provide the proper luminance and RGB values for optimum operation of all digital compositing systems.
The precise formulation of the single-source pigments found in DigiComp HD paints produces a highly-specific spectral reflectance and high-gain reflectivity, which results in a bright, narrow bandwidth of green or blue that make it both simple to light and easy to key. DigiComp HD saves productions valuable post-production time because Visual Effects technicians spend less time rotoscoping and manipulating a dirty key caused by the spectral interference found in other generic or paint-store mixed formulations.
Rosco's DigiComp HD formulations are ready for use straight out of the can and provide even coverage in two, easy-to-apply coats. DigiComp HD is intended for use on most porous surfaces, including: wood, wallboard, sheetrock, plaster and concrete. It is always recommended to properly clean, prime and prepare your surface before applying the DigiComp HD paints. Unprimed surfaces may result in uneven colour-coverage
All of Rosco's keying paints, including DigiComp HD, are manufactured to have an ultra-flat finish, which means there is no sheen or gloss in the finish at all. It's worth noting that the "flat" finishes available from paint or hardware stores will have some sheen to them when lit for camera – Rosco keying paints will not. This is important because any sheen/gloss in a green screen will appear as white or yellow on camera – not green – and may spoil your key.
Binder Type: Water-based, vinyl acrylic
Finish: Ultra-Flat
Dilution: Ready for use directly out-of-can
Film Thickness: 2 mils dry film
VOC Content: Max 50g/L