Stage Depot Quad Spanner 13/17mm 19/21mm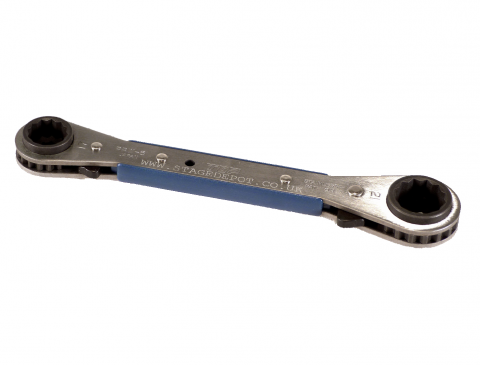 Stage Depot Quad Spanner 13/17mm 19/21mm
Free Saver Delivery on this item!
Classic Quad Spanner, it is a reversible ratchet spanner with two socket sizes at either end, fitting hex head nuts and bolts 13/17mm and 19/21mm. This is a great all-rounder, fitting most of nuts in common use within the entertainment industry and a must for a technician's toolbox. Includes ratchets for ease of working, especially in confined spaces.
This reversible ratchet spanner fits M8. M10, M12, and Scaff, covering all the sizes normally found on stage. The usual superb Japanese tool quality ensures reliable long life. Stainless steel body.
The 13/17mm end is designed for use on M8 bolts and M10 bolts (commonly found on hook clamps), and the 19mm & 21mm end will fit M12 and M14 bolt sizes (M12 is also found on Hook Clamps and 21mm for scaffolding clamps).
Reliable quality for a lifetime of use
Just one tool covers virtually every task
The most popular backstage spanner!