CHAUVET Professional Ovation E-260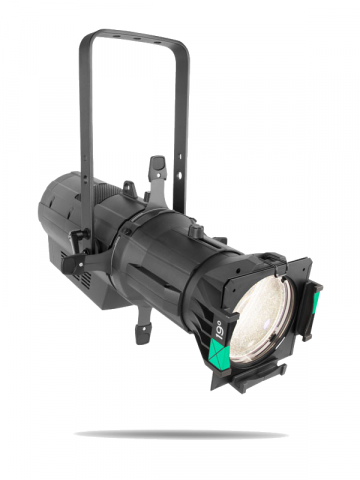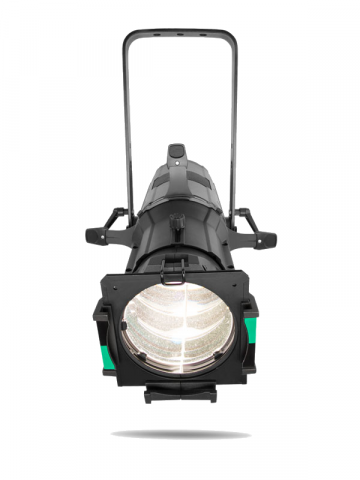 CHAUVET Professional Ovation E-260
Free Saver Delivery on this item!
Description
Features
Specifications
The CHAUVET Professional Ovation E-260 is powered by a single source LED that exceeds the output of a 750 W tungsten light source. This warm or cool white ERS-style fixture boasts extremely smooth dimming down to the very bottom of the curve as well as a flat and even field of light for superior gobo projection. Control options like selectable PWM, RDM, and selectable dimming curves round out this virtually silent ellipsoidal. The Ovation E-260WW is also available in a white housing to blend into architectural applications.


*Please note this is engine only, Ellipsoidal HD Lens Tube & HD Zoom Lens sold separately.
Warm or cool white ERS style fixture with output exceeding a tungsten 750 W source
Ultra smooth 16-bit dimming, and 8-bit dimming curves to complement any lighting scheme
Flat, even field of light for superior gobo projection
RDM (Remote Device Management) for added flexibility
Adjustable PWM (Pulse Width Modulation) to avoid flickering on camera
Virtually silent operation for use in studio and theatre applications
Works perfectly with industry standard lens tubes and accessories
Optical
Light Source: 1 LED (WW) 230 W, (3.6 A), 3149 K, 50,000 hours life expectancy; (CW) 198 W, (3.5 A), 5452 K, 50,000 hours life expectancy
Colour Temperature (at full): (WW) 3149 K; (CW) 5452 K
CRI: (WW) 96; (CW) 96
Beam Angle (w/5° lens): 6°
Beam Angle (w/10° lens): 8°
Beam Angle (w/14° lens): 11°
Beam Angle (w/19° lens): 13°
Beam Angle (w/26° lens): 16°
Beam Angle (w/36° lens): 20°
Beam Angle (w/50° lens): 28°
Beam Angle (w/15°–30° lens)(Narrow): 12°
Beam Angle (w/15°–30° lens)(Wide): 14°
Beam Angle (w/25°–50° lens)(Narrow): 21°
Beam Angle (w/25°–50° lens)(Wide): 22°
Field Angle (w/5° lens): 7°
Field Angle (w/10° lens): 10°
Field Angle (w/14° lens): 14°
Field Angle (w/19° lens): 18°
Field Angle (w/26° lens): 25°
Field Angle (w/36° lens): 34°
Field Angle (w/50° lens): 50°
Field Angle (w/15°–30° lens)(Narrow): 15°
Field Angle (w/15°–30° lens)(Wide): 29°
Field Angle (w/25°–50° lens)(Narrow): 26°
Field Angle (w/25°–50° lens)(Wide): 46°
Dimming Modes: 4
Lumens (w/19° lens): (WW) 7,587; (CW) 9,530
Lumens (w/26° lens): (WW) 10,284; (CW) 13,368
Lumens (w/36° lens): (WW) 10,121; (CW) 13,184
Lumens (w/50° lens): (WW) 9,655; (CW) 12,672
Illuminance (w/5° lens): (WW) 41,400 lux @ 5 m; (CW) 16,787 lux @ 5 m
Illuminance (w/10° lens): (WW) 23,300 lux @ 5 m; (CW) 16,787 lux @ 5 m
Illuminance (w/14° lens): (WW) 13,439 lux @ 5 m; (CW) 16,787lux @ 5 m
Illuminance (w/19° lens): (WW) 9,256 lux @ 5 m; (CW)10,674 lux @ 5 m
Illuminance (w/26° lens): (WW) 6,910 lux @ 5 m; (CW) 8652 lux @ 5 m
Illuminance (w/36° lens): (WW)4,053 lux @ 5 m; (CW) 5185 lux @ 5 m
Illuminance (w/50° lens): (WW)1,703 lux @ 5 m; (CW) 2181 lux @ 5 m
Illuminance (w/15°–30° lens)(Narrow): (WW) 16,827 lux @ 5 m ; (CW) 19,900 lux @ 5 m
Illuminance (w/15°–30° lens)(Wide): (WW) 10,626 lux @ 5 m; (CW) 10,159 lux @ 5 m
Illuminance (w/25°–50° lens)(Narrow): (WW) 7,210 lux @ 5 m; (CW) 9,219 lux @ 5 m
Illuminance (w/25°–50° lens)(Wide): (WW) 3,295 lux @ 5 m; (CW) 3,468 lux @ 5 m
Selectable PWM: 600 Hz, 1,200 Hz, 2,000 Hz, 4,000 Hz, 6,000 Hz, 25,000 Hz
Dynamic Effects
Dimmer: Electronic
Shutter/Strobe: Electronic
Zoom: Manual
Strobe Rate: (WW) 0 to 27 Hz; (CW) 0 to 30 Hz
Dim Modes: 4
Built-in Automated Programs: Yes
Colour Temperature Presets: (CW) No
Construction / Physical
Dimensions (fixture only): 19.49 x 11.22 x 19.17 in (495 x 285 x 487 mm)
Dimensions (w/5° lens extended): 42.79 x 14.17 x 14.48 in (1087 x 360 x 368 mm)
Dimensions (w/10° lens extended): 34.09 x 12.16 x 12.48 in (866 x 309 x 317 mm)
Dimensions (w/14° lens extended): 28.74 x 11.22 x 19.17 in (730 x 285 x 487 mm)
Dimensions (w/26° lens extended): 25.91 x 11.22 x 19.17 in (658 x 285 x 487 mm)
Dimensions (w/15°–30° lens): 32.87 x 14.61 x 14.61 in (835 x 371 x 371 mm)
Dimensions (w/25°–50° lens): 27.17 x 14.61 x 14.61 in (690 x 371 x 371 mm)
Weight (fixture only): 15.4 lb (7 kg)
Weight (w/5° lens): 20.2 lb (9.16 kg)
Weight (w/10° lens): 18.2 lb (8.35 kg)
Weight (w/14° lens): 20.8 lb (9.43 kg)
Weight (w/26° lens): 19.4 lb (8.80 kg)
Weight (w/15°–30° lens): 29.4 lb (13.34 kg)
Weight (w/25°–50° lens): 27 lb (12.25 kg)
Exterior Colour: Black
Gobo Size (Optional): "A": 100 mm (outside), 75 mm (image), 2.5 mm (max. thickness)
Gobo Size (Optional): "B": 86 mm (outside), 64.5 mm (image), 2.5 mm (max. thickness)
Accessory Holder/Gel Frame Size (5° lens): 14 in (356 mm)
Accessory Holder/Gel Frame Size (10° lens): 12 in (304 mm)
Accessory Holder/Gel Frame Size (14° lens): 7.5 in (191 mm)
Accessory Holder/Gel Frame Size (19°, 26°, 36°, and 50° lens): 6.25 in (159 mm)
Accessory Holder/Gel Frame Size (15°–30° lens): 7.5 in (191 mm)
Accessory Holder/Gel Frame Size (25°–50° lens): 7.5 in (191 mm)
Connections
Power Connection: Edison (Local) plug to Neutrik powerCON
Power Input: Neutrik powerCON
Power Output: Neutrik powerCON
Data Connectors: 3- and 5-pin XLR
Cable Length (power): 5 ft (1.5 m)
Control
Control Protocol: (WW) DMX; (CW) DMX, RDM
DMX Channels: 1, 2, 3 or 6
Modes/Personalities: 4 personalities (1, 2, 3, 6)
Electrical
Input Voltage: 100 to 240 VAC, 50/60 Hz (auto-ranging)
Power Linking: (WW) 6 units @ 120 V; 11 units @ 208 V; 12 units @ 230 V; (CW) 7 units @ 120 V; 12 units @ 208 V; 13 units @ 230 V
Power and Current: (WW) 236 W, 1.944 A @ 120 V, 60 Hz; (CW) 225 W, 1.86 A @ 120 V, 60 Hz
Power and Current: (WW) 244 W, 1.167 A @ 208 V, 60 Hz; (CW) 234 W, 1.12 A @ 208 V, 60 Hz
Power and Current: (WW) 243 W, 1.053 A @ 230 V, 50 Hz; (CW) 233 W, 1.02 A @ 230 V, 50 Hz
Certifications / Qualifications
CE, MET, FCC
IP Rating: IP20, dry location
What's Included
Ovation E-260WW/Ovation E-260CW
Neutrik powerCON power cord
Required Accessories
Lens Tube: (WW) 19°, 26°, 36°, 50°
Lens Tube: 14° (CW), 19°, 26°, 36°, 50°
Optional Accessories
Professional Clamps: CTC-50HC, CTC-50HCN
Neutrik powerCON cables
3-pin or 5-pin DMX Cables
Colour Blending Filters: DF60X1D, DF20D
RDM2go
Ovation Zoom Lenses: OHDZOOM1530, OHDZOOM2550
Gobo Holder: Standard "S4" size Sandwich Style or Iris Slot Style gobo holder for "A" or "B" size gobos