Tecpro LS351 Loudspeaker station, single circuit, desktop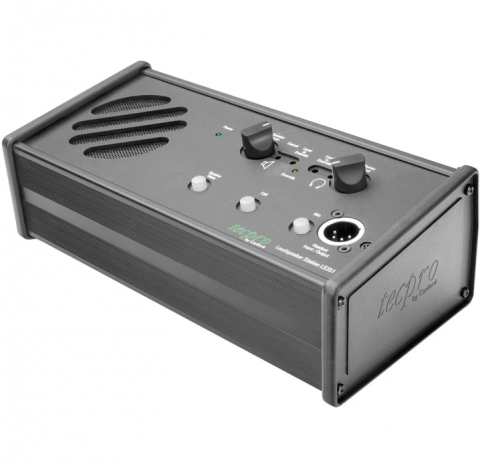 Tecpro LS351 Loudspeaker station, single circuit, desktop
Free Saver Delivery on this item!
Description
Features
Specifications
Single circuit table/surface mount (XLR 3 pin connections) loudspeaker outstation. A gooseneck microphone or headset can be connected if 2 way communication is required. This is the replacement to the discontinued LS311T, and has improved features including 24kHz "remote mic kill" send and receive.
The LS351T has an 80mm loudspeaker and an electret microphone. Construction is based around a rigid aluminium extrusion with ABS side panels. The microphone, loudspeaker and associated controls are mounted on a machined top plate.
The LS351 derives power either directly from the 24V DC Tecpro line, or from an optional external 24V PSU. A green LED indicates power is present. Connection to the intercom system is via a pair of 3-pin XLR connectors which allow the LS351 to be 'daisy chained' with other user stations.
Hands-free or headset operation
Loudspeakers selected for clear voice reproduction
Built-in flush-mounted electret microphone
Microphone On/Off button offers push-to-talk or latching characteristics
Acoustic feedback cancellation preset
Side-tone preset for headset
XLR 4-pin input socket for gooseneck microphone or headset
Single and dual-circuit versions available on some models
DC and 20kHz 'Call Alert' signaling send and receive
24kHz 'Remote Mic Kill' send and receive
28kHz 'Override' signal recognition for preset volume restoration
Power requirements: 24 to 30V DC

Current consumption: Less than 175mA peak

Headphone output: 30 ohms to 4k ohms

Microphone input: 200 to 600 ohm dynamic microphones