CHAUVET Professional Ovation E-930VW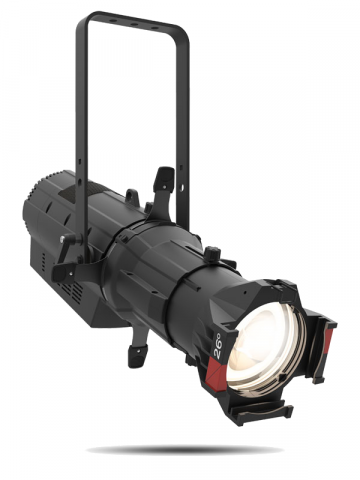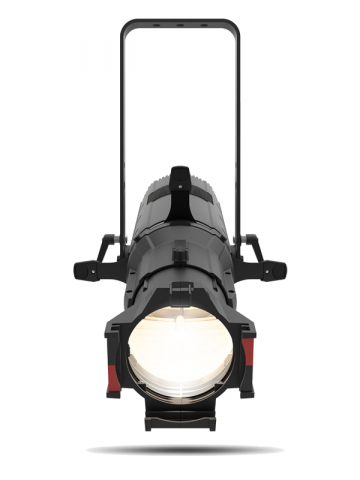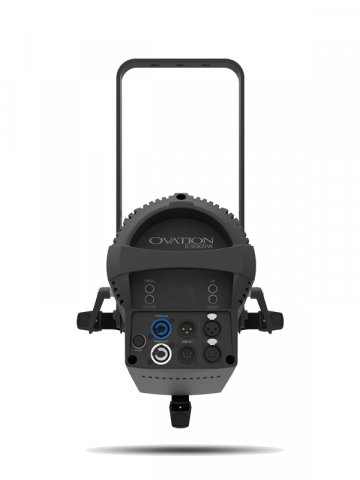 CHAUVET Professional Ovation E-930VW
Free Saver Delivery on this item!
Description
Features
Specifications
The CHAUVET Professional Ovation E-930VW is a high-performance, variable white ellipsoidal style fixture that utilizes our unique 6-colour LED system. This fixture projects a bright, beautifully flat field of light in nearly any temperature of white with high CRI and CQS. Each colour temperature can be further adjusted for +/- green to perfect the field of light. For times when a splash of colour is needed, the fixture can also give you full control of each colour of LED as well.


*Please note this is engine only, Ellipsoidal HD Lens Tube & HD Zoom Lens sold separately.
Variable white ERS-style lighting fixture for theatre, film and production
Colour Temperature Presets from 2800 K to 8000 K with high CRI and CQS
Beautiful 16-bit dimming
Proprietary LED engine delivers tremendous, equal output at all colour temperatures
+/- Green adjustment via DMX or on-board control
Independent colour control over the 6-colour engine when a splash of colour is needed
RDM (Remote Device Management) for added flexibility
Adjustable PWM (Pulse Width Modulation) to avoid flickering on camera
Virtually silent operation for use in studio and theatre applications
Works perfectly with industry standard lens tubes and accessories
Optical
Light Source: 91 LEDs (6 red, 15 orange-red, 9 green, 12 blue, 10 royal blue, 39 lime) 3 W, (960 mA), 50,000 hours life expectancy
Colour Temperature (range): 2800 to 8000K
CRI: 88-92
Beam Angle (w/5° lens): 5°
Beam Angle (w/10° lens): 8°
Beam Angle (w/14° lens): 12°
Beam Angle (w/19° lens): 17°
Beam Angle (w/26° lens): 22°
Beam Angle (w/36° lens): 27°
Beam Angle (w/50° lens): 38°
Beam Angle (w/15°–30° lens)(Narrow): 10°
Beam Angle (w/15°–30° lens)(Wide): 22°
Beam Angle (w/25°–50° lens)(Narrow): 20°
Beam Angle (w/25°–50° lens)(Wide): 36°
Field Angle (w/5° lens): 7°
Field Angle (w/10° lens): 10°
Field Angle (w/14° lens):14°
Field Angle (w/19° lens):18°
Field Angle (w/26° lens): 25°
Field Angle (w/36° lens): 33°
Field Angle (w/50° lens): 50°
Field Angle (w/15°–30° lens)(Narrow): 14°
Field Angle (w/15°–30° lens)(Wide): 29°
Field Angle (w/25°–50° lens)(Narrow): 22°
Field Angle (w/25°–50° lens)(Wide): 39°
Lumens (w/5° lens):
Lumens (w/10° lens):
Lumens (w/14° lens): 4,399
Lumens (w/19° lens): 4,817
Lumens (w/26° lens): 5,485
Lumens (w/36° lens): 5,306
Lumens (w/50° lens): 5,037
Illuminance (w/5° lens): 27,300 lux @ 5 m
Illuminance (w/10° lens): 12,700 lux @ 5 m
Illuminance (w/14° lens): 7,560 lux @ 5 m
Illuminance (w/19° lens): 3,765 lux @ 5 m
Illuminance (w/26° lens): 2,210 lux @ 5 m
Illuminance (w/36° lens): 1,296 lux @ 5 m
Illuminance (w/50° lens): 537 lux @ 5 m
Illuminance (w/15°–30° lens)(Narrow): 6,990 lux @ 5 m
Illuminance (w/15°–30° lens)(Wide): 1,815 lux @ 5 m
Illuminance (w/25°–50° lens)(Narrow): 2,464 lux @ 5 m
Illuminance (w/25°–50° lens)(Wide): 975 lux @ 5 m
Selectable PWM: 600 Hz, 1200 Hz, 2000 Hz, 4000 Hz, 6000 Hz, 25,000 Hz
Dynamic Effects
Dimmer: Electronic
Shutter/Strobe: Electronic
Strobe Rate: 0 to 28 Hz
Focus: Manual
Standalone Colour Mixing: Yes
Colour Temperature Presets: Yes
Dim Modes: 4
Built-in Automated Programs: No
Construction / Physical
Dimensions (fixture only): 25.04 x 13.54 x 23.22 in (636 x 343.9 x 589.7 mm)
Dimensions (w/5° lens extended): 46.14 x 14.17 x 14.48 in (1172 x 360 x 368 mm)
Dimensions (w/10° lens extended): 37.44 x 12.16 x 12.48 in (951 x 309 x 317 mm)
Dimensions (w/26° lens extended): 28.06 x 13.54 x 23.22 in (799.8 x 343.9 x 589.7 mm)
Dimensions (w/15°–30° lens): 37 x 11.52 x 10.33 in (939.8 x 287.9 x 262.62 mm)
Dimensions (w/25°–50° lens): 29.75 x 11.52 x 10.33 in (755.65 x 287.9 x 262.62 mm)
Weight (fixture only): 16.6 lb (7.5 kg)
Weight (w/5° lens): 22.4 lb (10.2 kg)
Weight (w/10° lens): 20.4 lb (9.3 kg)
Weight (w/26° lens): 20.6 lb (9.34 kg)
Weight (w/15°–30° lens): 29.2 lb (13.24 kg)
Weight (w/25°–50° lens): 26.2 lb 11.88 kg)
Exterior Colour: Black
Accessory Holder/Gel Frame Size (14°, 19°, 26°, 36°, and 50° lens): 6.25 in (159 mm)
Accessory Holder/Gel Frame Size (5° lens): 14 in (356 mm)
Accessory Holder/Gel Frame Size (10° lens): 12 in (304 mm)
Accessory Holder/Gel Frame Size (25°–50° lens): 7.5 in (191 mm)
Connections
Power Connection: Edison (Local) plug to Neutrik® powerCON®
Power Input: Neutrik® powerCON®
Power Output: Neutrik® powerCON®
Data Connectors: 3- and 5-pin XLR
Cable Length (power): 5 ft (1.5 m)
Control
Control Protocol: DMX, RDM
DMX Channels: 3, 5, 6, 8, 11, 15, 17
Modes/Personalities: 6 personalities (3, 5, 6, 8, 11, 15, 17)
Electrical
Input Voltage: 100 to 240 VAC, 50/60 Hz (auto-ranging)
Power Linking: 5 units @ 120 V; 9 units @ 208 V; 10 units @ 230 V
Power and Current: 266 W, 2.253 A @ 120 V, 60 Hz
Power and Current: 272 W, 1.303 A @ 208 V, 60 Hz
Power and Current: 272 W, 1.192 A @ 230 V, 50 Hz
Certifications / Qualifications
CE, MET, FCC
IP Rating: IP20, dry location
What's Included
Ovation E-930VW
Neutrik® powerCON® power cord
Required Accessories
Ovation Ellipsoidal HD Lens Tubes
Optional Accessories
Professional Clamps: CTC-50HC, CTC-50HCN
Neutrik powerCON cables
3-pin or 5-pin DMX Cables
Colour Blending Filters: DF60X1D, DF20D
RDM2go
Ovation Zoom Lenses: OHDZOOM1530, OHDZOOM2550
Gobo Holder: Ovation B-Size Metal or Glass Gobo Holder
Iris: Ovation 20-leaf Iris