Rosco Silk LED Soft Light Kit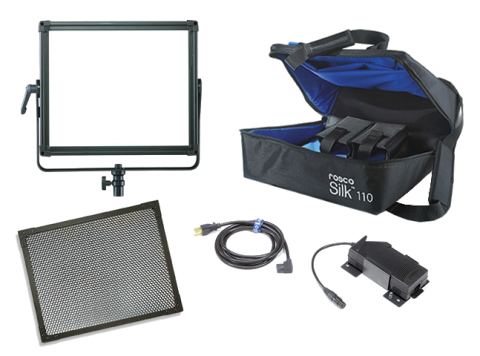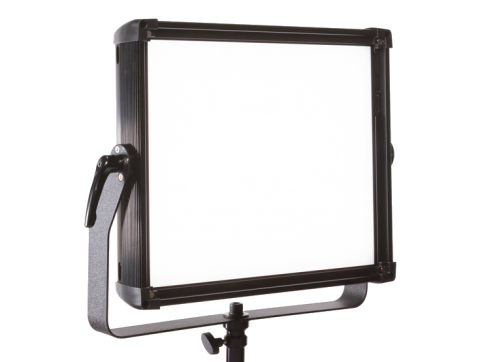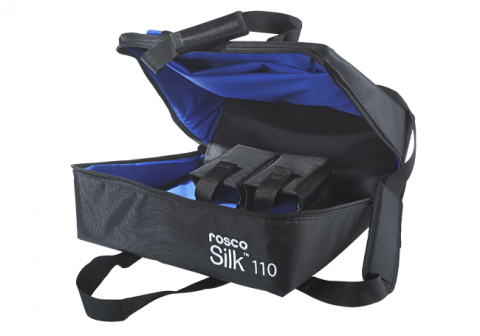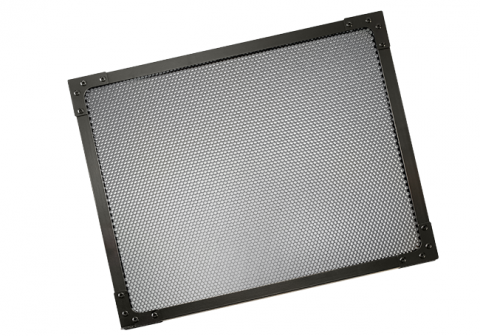 Rosco Silk LED Soft Light Kit
Free Saver Delivery on this item!
Description
Features
Specifications
The Rosco Silk LED soft Light range provide uncompromising light output for film and broadcast professionals. Designed to meet the requirements of the most discerning filmmaker, Rosco Silk LED light fixtures have been specifically developed for film and video applications that demand extremely colour-accurate, high-quality light.
Uncompromising Colour Quality
Utilising proprietary, state-of-the-art, tungsten & daylight balanced LEDs, Rosco Silk LED fixtures produce a high volume of broad-spectrum white light. With TLCI, CRI and R9 metrics in the high 90's, the fixtures are capable of producing a high volume of light output at colour temperatures ranging from 2800K - 6500K.
The output from Rosco Silk LED fixtures have been validated using TLCI test algorithms as a source of the highest quality. The resulting metrics indicate that Rosco Silk fixtures will require virtually no correction in post-production.
Flattering Light
Rosco Silk LED fixtures create enticingly soft, diffused light that gently embrace their subjects. The units feature a non-glare diffuser to provide a uniform, single-source light. A full suite of optional accessories, including barn doors and magnetic egg crate louvers, are available.
Ready to Work - Wherever and Whenever It's Needed
The fixtures feature precise, on-board dimming and colour-temperature controls for maximum flexibility on location. They also have DMX on-board with four popular dimming curve options and three modes of DMX. The Silk LED fixtures are wireless-enabled and engineered to receive a LumenRadio antenna. The units ship with a 100 / 240 AC power supply for worldwide use. V-Lock, Anton/Bauer and 4-Pin XLR input are available to ensure maximum portability.
Soft Carrying Case
This durable, black, nylon carrying case is custom designed to carry one Silk 110 LED Fixture and holds up to three accessories. Featuring extra-thick padding, this lightweight case will keep your Silk 110 fixture protected without slowing you down.
60° Egg Crate Louver
Control the spill and narrow the beam-angle of your Silk using this innovative beam control accessory. This egg magnetically attaches to the fixture, enabling filmmakers and broadcasters to quickly alter the beam angle of their Silk LED fixture.


What's In The Box
Rosco Silk LED Fixture with yoke
100-240VAC power supply
3m power cord
5/8" (16mm) light stand receiver
Silk Fixture Soft Case
Silk Fixture Egg Crate Louver 60°
High-volume light output
Colour-correct, attractive and soft light
DMX and local control, and Wireless DMX enabled via LumenRadio
Non-glare diffuser provides uniform, single source light
Power via: AC, Double Anton/Bauer, Double V-Lock, 4-Pin XLR
Accessories for beam shaping: egg crate louvers, barn doors and softbox
Electrical Properties
Power Supply: Universal 100-240 VAC, 50/60 Hz
Data: DMX 512 via 5-pin XLR
Number of Channels:
8 bit mode: two DMX channels – dimming and colour temperature
16 bit mode: three DMX channels – coarse/fine dimming and CCT
Wireless DMX via LumenRadio Antenna
DMX Modes:
Standard DMX
Wireless DMX
Silk is DMX master
Dimming Curves:
Linear
Square Law
S-Curve
Tungsten
Approvals:
ETL/UL1573 and 8750
CE
RoHS
IP20 Rated
IEC 62471:2006, EN 62471:2008
Dimensions & Weights
| | Width | Length | Depth | Weight |
| --- | --- | --- | --- | --- |
| Silk 110 (in the case) | 19" (482.6 mm) | 16" (406.4 mm) | 8" (203.2 mm) | 15 lbs (6.8 kg) |
| Silk 205 (in the case) | 24" (609.6 mm) | 12" (304.8 mm) | 8" (203.2 mm) | 21.8 lbs (9.9 kg) |
| Silk 210 (in the case) | 24" (609.6 mm) | 16" (406.4 mm) | 8" (203.2 mm) | 21.8 lbs (9.9 kg) |
| Silk 305 (in the case) | 34" (863.6 mm) | 12" (304.8 mm) | 8" (203.2 mm) | 21.8 lbs (9.9 kg) |
| Silk 220 (in the case) | 28" (711.2 mm) | 25" (635 mm) | 10" (254 mm) | 25 lbs (9.07 kg) |
Silk 110
Colour Temperature Range: 2800K-6500K
Photometrics
Lux
1m
2m
3m
4m
@3200K
1961
455
209
118
@5600K
2454
569
261
148
Colour Metrics
TLCI
CRI Ra
R9
CQS
@3200K
97
98
94
96
@5600K
98
94
94
91
Silk 205
Colour Temperature Range: 2800K-6500K
Photometrics
Lux
1m
2m
3m
4m
@3200K
1423
421
199
116
@5600K
1758
502
246
140
Colour Metrics
TLCI
CRI Ra
R9
CQS
@3200K
98
97
92
97
@5600K
97
96
94
94
Silk 305
Colour Temperature Range: 2800K-6500K
Photometrics
Lux
1m
2m
3m
4m
@3200K
2709
748
332
195
@5600K
3056
841
389
229
Colour Metrics
TLCI
CRI Ra
R9
CQS
@3200K
98
97
94
97
@5600K
97
96
95
94
Silk 220
Colour Temperature Range: 2800K-6500K
Photometrics
Lux
1m
2m
3m
4m
@3200K
5907
1521
689
414
@5600K
6645
1715
774
446
Colour Metrics
TLCI
CRI Ra
R9
CQS
@3200K
97
98
94
96
@5600K
98
94
94
91