AutoYoke Source Four LED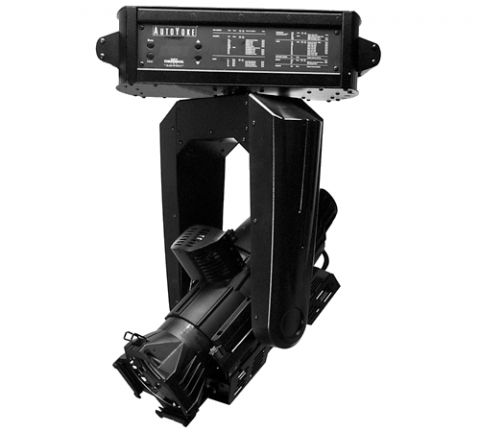 AutoYoke Source Four LED
Free Saver Delivery on this item!
Description
Features
Specifications
The First Automated Lighting Solution Designed for ETC's Source Four LED
The AutoYoke® Source Four LED combines the quiet operation, accuracy, reliability, and professional quality of the AutoYoke®, with the brightness, built in colour changing, energy efficiency, and long life of the Source Four LED, and is the solution for converting ETC's state of the art Source Four LED into a full featured moving light. Smooth, precise, and quiet, the AutoYoke Source Four LED's DMX control allows you to pan and tilt the unit, as well as adjust the iris, and change the focus (sharpness of the beam). Since Source Four LED lighting fixtures have colour changing capabilities, there is no need for colour scrollers, and no dimmer is required.
Supports state of the art ETC Source Four LED fixtures
Creates a low-cost moving LED lighting fixture
Designed for theatrical and studio applications
Fully functional onboard user interface
8 or 16 bit DMX control
Accuracy of movement less than 0.1°
Lightweight
Quiet operation
Pan Range: 360 Deg
Tilt Range: 270 Deg
Pan speed (360 Deg): 7.5 seconds
Tilt Speed (270 Deg): 4.0 seconds
Voltage: 100-240 VAC (autosensing)
Current: 1.3a @ 50/60Hz
Wattage: 40w
Protocol: USITT DMX 512
Required Channels: 7 channels (16 Bit), 5 channels (8 Bit)