Rosco Cinegel Sampler Filter Kit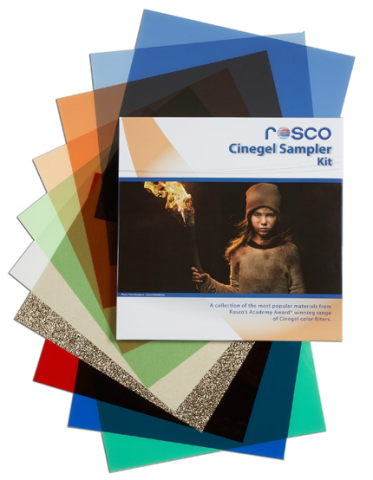 Rosco Cinegel Sampler Filter Kit
Free Saver Delivery on this item!
An all-purpose collection of the most popular, Academy Award® winning Rosco Cinegel materials for photographers and filmmakers. The kit contains one piece each of 15 different, light-control materials, which offers complete control over all aspects of the light in the shot.
Colour corrections that balance the various light sources in the shot.
Diffusion materials for softening and shaping the beam and controlling shadows.
Roscoflex reflector to bounce warmed light into the shot.
Colour effects filters for adding dramatic, vibrant colour.
Contents
3202 Full Blue
3204 1/2 Blue
3208 1/4 Blue
3408 Roscosun 1/2 CTO
3304 Tough Plusgreen
3011 Tough Silk
3805 Flex G (Gold Tint)
3114 Tough UV Filter
3040 Powder Frost
26 Light Red
80 Primary Blue
89 Moss Green
3407 Roscosun CTO
3409 Roscosun 1/4 CTO
3009 Light Tough Frost
Sheet size: One 12" x 12" (30.48 cm x 30.48 cm) cut each of 15 different filters