Selecon Acclaim Fresnel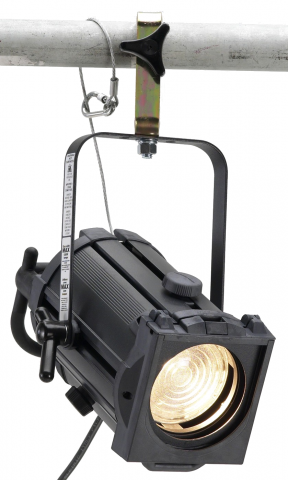 Selecon Acclaim Fresnel
Free Saver Delivery on this item!
Description
Features
Specifications
Selecon's popular Acclaim Fresnel is a general-purpose stage lens luminaire. The adjustable beam angle range of 6 Deg to 60 Deg and wide range of available lamps make it the perfect choice for theatre, small studio, school hall and drama suites, and display lighting applications. A smarter choice than a Par or Fixed Beam due to superior control and light quality.
The soft-edged Fresnel beam is the one required most often when lighting the stage blending seamlessly together with adjacent beams for even area illumination with no need for the addition of frost filters to soften hard edges or to smooth out irregularities or hot spots.
Useful throw distances : 2-10m.
Adjustable beam angle range of 6 Deg to 60 Deg.
Simply slide the heat-insulated focus screw knob to the beam angle you require. Quick, easy and convenient - a task achieved in seconds without the use of tools.
Unique posi-slide lamp / lens focus action and spring dampening design minimises sticking and vibration, maximising lamp life.
Effectively shape / mask the flood to medium spot beam using the four-flap barndoor accessory.
Improved filter life through the increased airflow of the heat management system.
Large, heat-insulated rear grab handle assists with focusing; doubles as a handy cable (1m/3ft) wrap for safe and tidy storage.
Easy to use tilt adjustment mechanism locks luminaire in place ensuring a stable mounting position.
Heat-insulated retention cover securely locks accessories in place.
Automatic mains power disconnection when the side swing-down door is unlatched for lamp, cleaning or maintenance access.
Failed lamps are removed quickly and safely via the quick release ejector mechanism without altering the focus position.
The integral safety chain design ensures this important accessory is always to hand making it easy to comply with worldwide mandatory and standard practice rigging requirements. It can be kept out of the way simply by pulling it back into the luminaire. Rated for the fitting with a maximum free length = 650mm / 25 1/2".
Integral safety chain, 1x colour frame, M12 nut and bolt set, 1m/3ft cable and a short form instruction manual.
Three-year Warranty.
Beam angle range: 6°-60°
Lens diameter: 110mm / 4 1/4-inch
Cable length: 1m / 3ft
Colour frame size: 125mm x 125mm / 4 7/8" x 4 7/8"
Accessories: lens safety mesh / spare colour frame
Weight: 2.8kg / 6lb 3oz