DAP Live Mini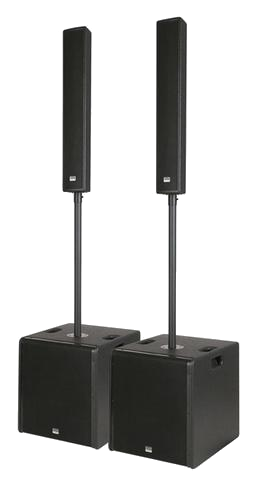 DAP Live Mini
Free Saver Delivery on this item!
Description
Features
Specifications
The DAP Live mini is an active plug and play column speaker system for speech, Dj and small live performances. The set contains 2 active subs, 2 column speakers, 2 distance tubes and 2 speakon cables. The 2 passive columns are equipped with 8 pcs 3,5" speakers. Because of the coupling of 8 speakers in a compact array housing this system gives an optimal sound coverage with a direct and clear sound. Another advantage of the Live mini is its weight and size. With only 20Kg on the active sub and 7 kg on the column this set can be transported and set up by only one person. The active sub has a built-in DSP with 2 sound presets and a limiter network that protects the complete system. The sub also has an integrated mini mixer which allow you to mix a microphone with an instrument or line signal.
Built-in DSP & Dynamics
Microphone, Instrument & Line input
Mix possibility with link output
2 Sound presets
The subwoofer contains the amplifier for the column and the subwoofer itself. Both subwoofers contain an amplifier. The housing is made of durable 15mm Plywood with scratch resistant paint, metal grill with foam and rubber feet.
The two handles on top are convenient for placing the module. The amplifier has 2 inputs with separate volume controls and a link-function. Furthermore you can select which sound preset you would like to use and a signal limiter to protect the Live Mini set is built-in.
Sound quality
By incorporating eight 3.5" speakers in the satellites instead of the standard two-way system, the sound includes a high level of detail. The DAP Live Mini produces an open and scintillating sound. The 12" subwoofers provide the necessary palpable bass tones, which are in perfect balance with the satellites. This makes the speakers suitable for a wide range of applications. Not only are they perfect for amplifying speech, but they also make ideal loudspeakers for performers and DJs.
Construction quality
The subwoofers and satellites are made from sturdy 15 mm thick plywood, are coated with a layer of scratch-resistant paint, and have practical handles built into the top. Although the amplifier modules built into the subwoofers produce 2x 350 W RMS each, the loudspeakers only weigh 20.5 kg a piece. And as the satellites weigh just under 7 kg each, the set can easily be transported and set up by one person.
Sturdy protective cover set is available. It protects your speakers during transportation and while it's stored. The covers are water-repellent and due to the foam padding it protects against damages.
The bag for the column speakers have a convenient shoulder-strap for easy transportation.
Subwoofer:
System: 1x 12" compact vented active PA subwoofer
Amplifier Output Low: 350 Watt RMS @ 4 Ohm
Amplifier Output High: 350 Watt RMS @ 4 Ohm
Freq. Response (-6 dB): 40 - 500 Hz
Sensitivity 1W @1 m: 96dB
Input 1: (MIC/Line) Combo XLR/Jack
Input 2: (Instrument/Line) Combo XLR/Jack, RCA
Mix Output: Male XLR balanced
Speaker output: Speakon
Control: Volume Control
Power ON
2 Sound presets
Electric Protection: Thermal/Convection-Fan/Overload/Digital Lim./Compressor
Adapter: 35mm metal pole-mount
Enclosure: 15mm Plywood scratch resistant paint, metal grill with foam, rubber feet
Cooling: Temperature controlled fan
Dimensions (HxWxD): 430 x 450 x 480mm
Weight: 20,5Kg
Input voltage: 230V, 50/60Hz
Power consumption: 600W
Satellites:
System: 8x 3.5" passive column satellite speaker
Power Handling: 240W
Nominal impedance: 4 Ohm
Freq. Response (-6 dB): 140 - 20,000 Hz
Sensitivity 1W @1 m: 97dB
Coverage: 80° Horizontal
Input: Speakon
Adapter: 35mm metal pole-mount
Enclosure: 15mm Plywood scratch resistant paint, metal grill with foam
Dimensions (HxWxD): 130 x 760 x 103mm
Weight: 6,95Kg
Included accessories: 2x Distance tube, 2x 3m Speakercable