Altair 5034 WBS-200HD Digital Wireless Intercom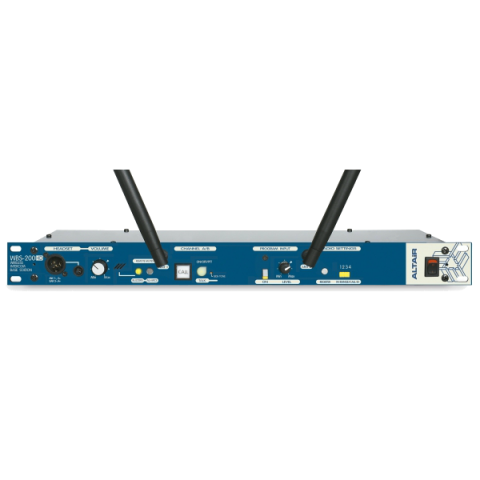 Altair 5034 WBS-200HD Digital Wireless Intercom
Free Saver Delivery on this item!
Description
Features
Specifications
Altair Digital Wireless Base Station.
The Altair WBS-200HD base station enables the use of of 4 single channel wireless beltpacks and up to 20 wired intercom beltpack.
The new series of wireless intercom stations offers the same features and special functions that turned the WB-200 Series into a huge success, while notably improving the audio quality in the intercom line.
For use with Altair WBP-210HD Wireless Beltpack, which features compatibility with the Altair WAM100/2 Single Muff Headset and the TECPRO SMH210 Single muff headset.
This handy base station is ideal for most theatre and event scenarios.
Dual pre-amble diversity antenna system detects and selects the higher radio signal, ensuring the best possible range and minimizing dropouts. When used along with any ALTAIR "HD" wireless beltpack the station will deliver an improved wideband audio quality.
When more beltpacks are needed the unit can be used in "slave" mode by wiring base stations across the working area, expanding the number of wireless users in a cellular arrangement.
Digital encryption guarantees privacy of the communication line.
The base station can be powered from a separate base station or from a 12v battery.
With a clear line of sight a coverage of up tp 3590m can be achieved.
The unit comes with 2 detachable antennas. However, high gain directive antennas can be added to increase coverage.
RADIO
Frequency: 1900 Mhz Band
Modulation: GFSK/TDMA
Transmit Power: 22 dBm typically
Receive Sensitivity: -92 dBm typically
Beltpack: Max of 4 in party
Audio
Party line channels: 2 channels: A & B selectable
Audio quality: 100Hz - 7kHz
Headset type: Selectable, dynamic or electret
Connectors: 4 pin XLR & 4 pin mini XLR
Other compatible Headsets: TecPro DMH220 dual muff & TecPro SMH210 single muff
General
Power requirements 90 - 250 VAC / 50-60 Hz / 10 Watts
Dimesions: 482 x 150mm / 3Kg